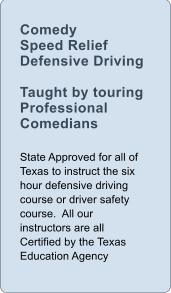 Link: City of San Antonio Municipal Courts
Link: Surrounding Area Courts
Link: Search all other City or County Courts
Toll Free:
1-800-399-LAFF OR
(210) 432-5233
About Us
Do we laugh, do we cry, do we feel your pain? Well yeah, but mostly we laugh alot, .
We do however, take our customers seriously!
Our goal here at comedy Speed Relief is to make your traffic ticket experience as easy and as fun as possible, Look out for the phonies out there. We encourage your calls or your emails with your questions or concerns about our classroom or online defensive driving courses.
You can ask us just about anything to do with defensive driving!!! We have over 18 years of experience and are very knowledgeable about traffic ticket dismissal! Even more than some attorney's, although we are not attorney's ourselves and never give you legal advise.
We'll keep you laughing all the way to the courthouse.
And you'll laugh even more after that traffic ticket gets dismissed.
Email:
nfo@thatstheticketdds.com
Home | About Us | Locations | Online Courses | TABC Certification | Comedians
Insurance | Franchise Opportunities | Request Driving Record Online | Rush Delivery of Certificate of completion
Comedy Speed Relief can not control the attendance of registered students. Although all efforts to hold a class will be made, a minimum of 5 students are necessary to have a class. If you pay online, and class is cancelled, you can take any class we offer,, or if need be, your money will be cheerfully refunded within time restraints listed on receipt..